Quality Management & Task Forces
Quality Without
Compromise
Logistics Planning & Packaging
Expertise From
Concept to Reality
Manufacturing & Process Engineering
Data-Driven Production
Process Planning
Assembly Tools & Equipment
The Optimal Equipment
for Your Solution
Outsourced Solutions & Consulting
Guiding You
to Success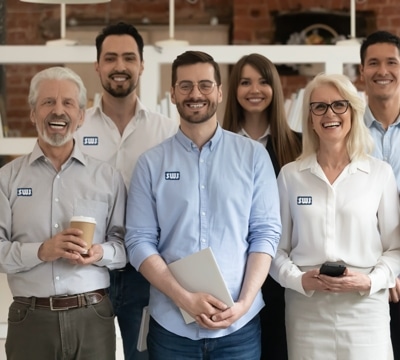 Welcome To
SWJ TECHNOLOGY !
SWJ TECHNOLOGY provides engineering, planning, and project management services to assist various industries to streamline their processes, products, or services. We provide virtual planning and structural concepts, integration and optimization, specifications and quality engineering, validation and control plans, production readiness support as well as audit preparation, and tool control.
We also plan tools, jigs, equipment, robotics, conveyors as well as manual work steps and build times. We focus on KAIZEN and Lean Integration and our strength is to offer a plan for each part (PFEP), staging and rack planning, supply layouts, container, and packaging design, carrier concepts and route planning, KANBAN systems, and supply chain management.
We offer our employees great opportunities to learn and participate in worldwide projects and engage with specialists in various services and industries. We offer training & development of skills and expertise as well as competitive salaries and great benefits.
In a nutshell: SWJ is the GO-TO Company for innovative customer solutions and rewarding careers.

PROJECTS
0+
Successful Projects Delivered



OUR TEAM
0+
Experienced Team Members



INNOVATIONS
0
In-House Software Systems
Our Corporate Development
Since 2009

2009

Breilmann US, LLC was created

Breilmann US, LLC was created 2009 to serve the US Markets as a subsidiary of Breilmann-AG in Germany. The company started off with three team members.


2011

South Carolina Presence

In early 2011 the company branched out of its South Carolina presence and added an office in Tennessee to serve its growth and an additional region with close proximity to its customers.


2014

Renamed to SWJ-Breilmann U.S. LLC

In 2014 the company was renamed to SWJ-Breilmann U.S. LLC in conjunction with SWJ and Breilmann working collaboratively together for the US market.


2015

Dr. Wolfgang Kneer Joined

Dr. Wolfgang Kneer joins the companies executives as new shareholder.


2017

NGE and ProjectOne

With more than 80 team members, SWJ grew and acquired North Georgia Equipment Solutions, and established ProjectOne as its subsidiaries.


2019

The Company Grows

In 2019 SWJ-Breilmann was renamed to SWJ TECHNOLOGY, LLC. The company broke ground for the construction of its new USMCA headquarters in Alberta City, a suburban area of Tuscaloosa, Alabama, after being awarded with a federal grant through the
"Innovate Tuscaloosa" program.


2021

New USMCA Headquarters

In March of 2021, SWJ moved into its new USMCA headquarters, the "Alberta Technology Center".


2021

New Facility & Advancements

The new facility includes the regional office for Alabama, and has its own engineering lab, operated by the subsidiary NGE EQUIPMENT, offering various solutions, such as advanced measurement and prototyping services, assembly of innovative specialty tools, equipment and handhelds, which will support and integrate into manufacturing operations.
Our awards and achievements
ISO Certificate
Appreciation Award
Board Members
Meet the Team

Chairman, President & CEO

Treasurer & CFO

Secretary
https://swj-technology.com/wp-content/uploads/2021/08/company-video.webm

Our Expertise, Your Success.​
STRATEGY


Expertise From Concept To Reality

We continuously streamline processes using innovative methods and systems to provide economic value for our customers and best-in-class solutions.
We have a proven track record for completing projects on time and above quality expectations for over 10 years for all German OEMs and suppliers worldwide.
We foster a positive business culture and comply with all all state and federal regulations, and we had no complaints or administrative lawsuits. We certainly are up-to-date regarding all required licenses and permits.
VISION


Quality Without Compromise

SWJ TECHNOLOGY's vision is to provide quality without compromise.
We are EN-ISO 9001:2015 certified, and we aspire to be the go-to company for best-in-class solutions and rewarding careers.
SWJ TECHNOLOGY employs visual management and involves all parties in order to provide KPIs for all processes. Management attention closes the quality loop in each project, and a method of continuous feedback improves our services. A structured approach from value stream analyses to control plans and layered systems ensures repeatable success.
APPROACH


Great Teams Produce Great Results

We believe that each project has to start with adequate information and the alignment of targets. To be the best fit for the job, team members need to be trained and well-selected from a worldwide network.
As an employer of choice, we offer competitive salaries, great benefits, bonus programs, training and development, as well as a great work environment.
Our motivation is not only to continuously improve and train ourselves, we also extend training and courses to our customers. We promise flexibility and integrity in responding to various demands and support requests.
Office Locations